You are here
Morris High School catalogs 1890-1891 to 1916-1917 with some exceptions






Morris High School Faculty for 1899-1900.

FRANK STANBRO, PRINCIPAL.
Albany Normal College.
Training Class, Mathematics, Drawing, Sciences, Latin and Greek.

MISS ANNA M. SHANESSY. PRECEPTRESS,
Geneseo Normal School.
Training Class, History, Sciences, Literature, and German.

MRS. EDWIN M. HOPKINS,
Morris High School.
English and Grammar Department.

MISS MINNIE A. WILCOX,
Morris High School.
Teacher in the Intermediate Department.

MISS HELEN M. COLVIN,
Morris High School.
Teacher in the Primary Department.

MISS M. MABEL GRAFTON,
Morris High School.
Teacher of Vocal Music.
Instruction in Instrumental Music at reasonable rates,


The Academic Room from the 1912-13 catalog.



Morris High School about 1898 as shown in 1898-1899 catalogue. The advantages of the Morris High School were laid out in the catalogue on page 6.


In the photo above, top left, a view of a former school building and bottom right, the one in use for 1916-1917.


HISTORICAL SKETCH
The first schoolhouse for the village of Morris (then
known as Louisville) was located nearly opposite the
present entrance to Hillington cemetery. This building
was moved twice. It was finally located on a
part of the present school grounds and remained
there until 1861, when it was replaced by a new building,
which with its several additions was used until 1894, when
the present building was erected and the school grounds amply
enlarged.

In 1868-9 the Morris school was organized into the first
Union Free School in Otsego county. In 1875 it was advanced to
the rank of an Academic School. In 1897 it was
chartered by the University of the State of New York as a
High School, and has been regulated by that charter since
that date.

For this steady progress in educational work Morris is
indebted to many high-minded and progressive citizens who
have given unstintedly of time and talents for the accomplishment
of this cause. Among many whose names it is fitting
that we should recall in this connection may be mentioned
Benjamin H. Matteson, who was largely responsible
for the establishment of the first union free school in the
county. Other names it is proper to remember in connection
with the Morris school are A. S. Avery, Dr. Merritt Matteson,
Silas W. Murdock, Nathan Bridges, Daniel C. Winton,
Isaac Mansfield, Maurice Shaunessy, L. P. Carpenter. There
were many others associated with these in the direction and
management of the affairs of the school to whom the young
people of Morris and its environs are indebted for the educational
advantages they are privileged to enjoy.

Location and Equipment.

The Morris High School is located in the center of an
agricultural district, from which it draws many pupils who
seek the advantages it offers. As a preparatory school
it has furnished successful students for Cornell, Syracuse,
Colgate, Albany and other higher institutions of learning and
many other of Its graduates are graduates of State Normal
Schools and are making their mark as teachers. Morris is
an ideal place for young students. Located in a small rural
village, in the beautiful Butternut Valley, it is free from undesirable
features ; is healthful, and has a domestic water
supply system unequaled anywhere. The village has four
churches and several young people's religious societies.





Advantages of the Morris High School

THE MORRIS HIGH SCHOOL building, so lately erected and
equipped at a cost of over $8,000.00, is pleasantly located just
far enough from the business portion of the town to escape the
noise, yet near enough for all convenience. The sanitary conditions
of the building and grounds are carefully looked after, and in point
of excellence are not equaled by any school in this part of the State,
as is well known by all who understand the most modern systems of
heating, ventilating, and dry closets.

The village of Morris, which is beautifully situated in the fertile
valley of the Butternut creek, has been for many years an educational
center, in both elementary and higher instruction, and to-day its
school stands second to no similar institution in the land as regards
the advantages offered students.

Unlike most villages of its size, Morris is provided with an excellent
system of water works, and has this spring put in a new gas plant for
lighting purposes. In fact, Morris is noted for the alacrity of its.
business men; the pure and bracing air, conducive to health and
vigor; the broad and well-kept streets; the abundance of beautiful
shade trees; and the fine lawns and pleasant homes which are so
justly the pride of its citizens, and make the village a desirable place
of residence throughout the year. There are five churches in the village
and to their services and to the young people's societies connected
with them students are heartily welcomed.

The school authorities take broad and sensible view of education.
and endeavor to furnish the best possible facilities for obtaining a
thoroughly practical knowledge which will not only prepare students
to enter our higher institutions of learning, but will also secure for
them such education as will be of assistance in obtaining an honest
livelihood.

The excellence of the faculty is shown by the fact that without
exception it is composed of teachers of ability acquired by successful
experience. They are ever ready to counsel and assist those under
their care in the formation of such ideals of life and such habits of
self-control, thought, and action, as will develop a noble manhood or
womanhood, and produce excellent citizens.

Parents desiring to give their children an education, will do well to
send them to the Morris school.

The attention of those persons who are desirous of becoming successful
teachers is called the announcement in the following pages of
the Teachers' Training Class, which has been a prominent feature in
this school for twenty years. Other things being equal, the holder of
a training class certificate is preferred as a teacher in any school in the
State, and has a privileged entrance into the State normal schools.
1890-1891

We need your help filling the gaps.


If you know the whereabouts of any Morris High School Catalogues that are missing from our collection, please let us know. You can contact us using the link below "Contact Webmaster" on the left side of the page.
1897-1898
1898-1899

1899-1900

1900-1901
1901-2
1907-8
1911-12
1912-13
1913 Commencement covered in Morris Chronicle
1915-1916
South New Berlin Bee article about school changes
1916-17
1921 Commencement Invitation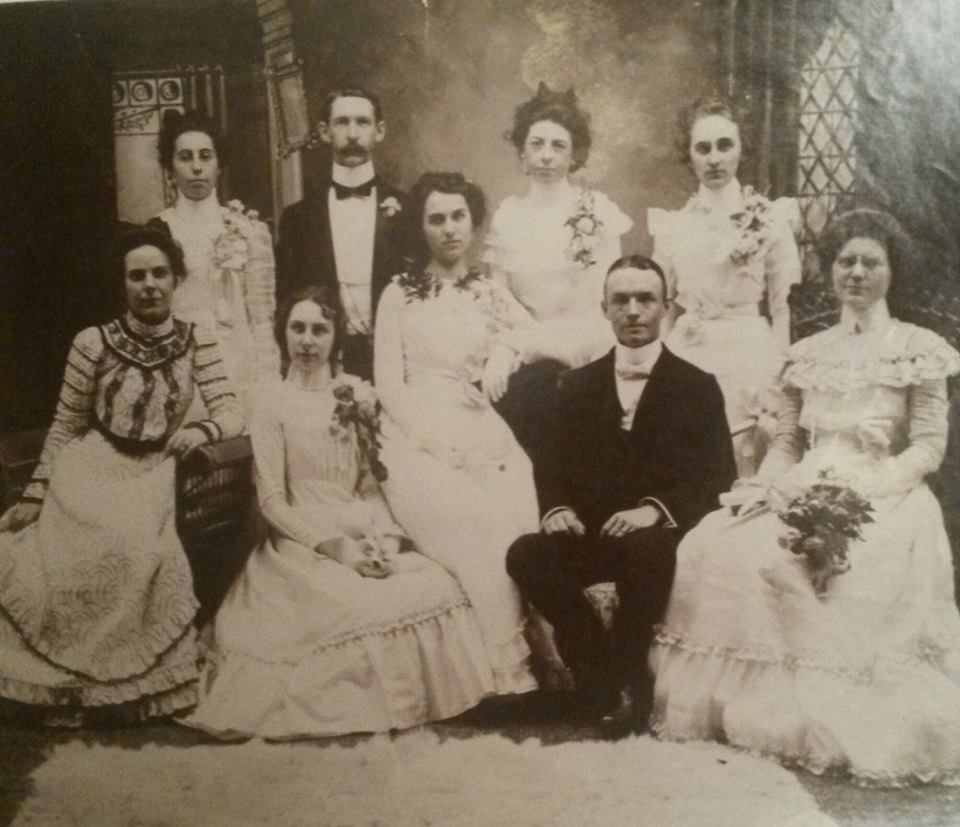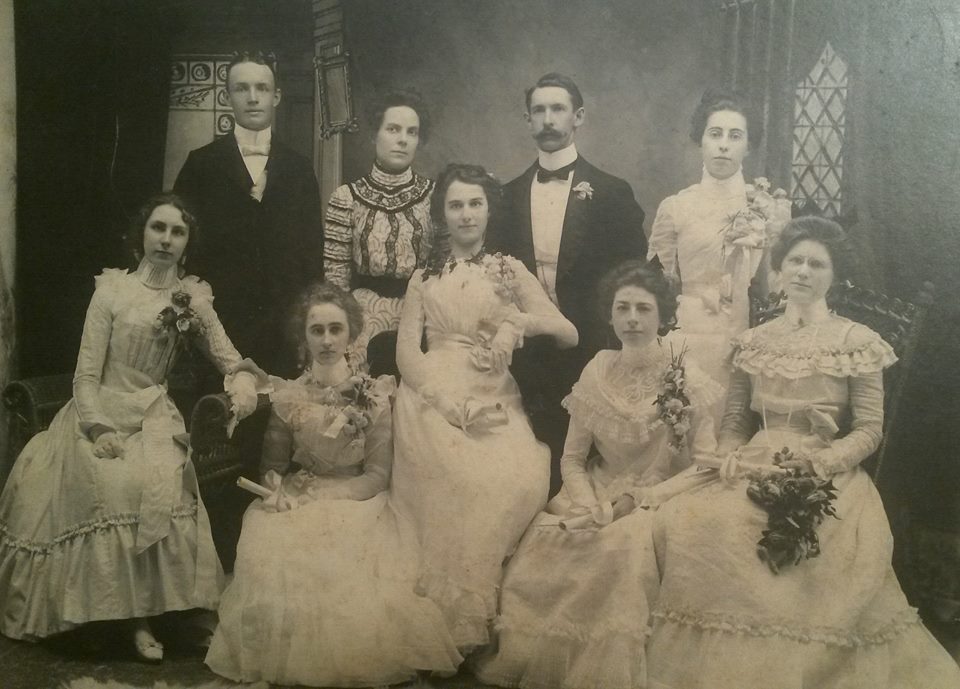 The seven graduates of the class of 1900 with Principal Frank Stanbro and Miss Anna M. Shanessy, Preceptress are shown in photographs by Norman W. Carey of Morris, NY. In the lower photo standing in the back row from left to right are Erle Amariah Smith, Sr., Miss Anna M. Shanessy, Principal Frank Stanbro, and student Jennie May Stafford.
The list of graduates of the class of 1900 as reported in the catalog for 1900-1901 includes Mabel Maud Greene, Myra Claire Hurlburt, Erle Amariah Smith, Sr., Alice May Matteson, Jennie May Stafford, Ada Florence Naylor, and Fannie Grace Thurston.